According to Hong Kong media, at 19:00 on the 14th, an engineering safety accident occurred at the construction site of the middle section of the Hong Kong Central Kowloon Route, which was under construction. An excavator fell directly into the shaft and smashed the facilities under the shaft because it was suspected to be unfastened during the lifting process. Fortunately, no one was injured.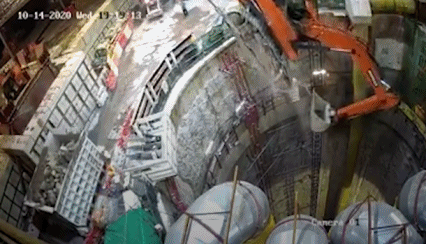 In response, Hu Guojiang, chairman of the Hong Kong Construction Industry Mobile Machinery Operators and Maintenance Workers Union, said that the four-jaw lifting device is sufficient to lift the excavator. However, according to the online video, it can be seen that the center of gravity of the excavator is tilted after being hoisted, and the signaller on the scene should immediately stop the adjustment and lift after detecting the tilt. Therefore, he believes that the strapping workers are more responsible and emphasized that the training of the staff should be strengthened.
Hong Kong media said that the site involved was "Central Kowloon Route-Middle Tunnel Project." The project includes cut-and-cover tunnels in Yau Ma Tei and Ma Tau Kok, as well as the piles and diaphragm walls of the Ho Man Tin Ventilation Building. The cost is HK$6.23 billion. The contractor is the French Bouygues Group, with an estimated completion date of 2024.
In addition, as early as July this year, the construction of the Central Kowloon Route Tunnel at the junction of Chengkai Road and Songhuangtai Road in Kowloon City was about 20 meters deep underground. During the reinforcement work of seven workers, the upper 22-ton steel support suddenly collapsed. The 51-year-old worker, surnamed Zhou, was hit hard and fell into a coma when he was rescued. He was rushed by ambulance to the United Hospital and was certified dead.